One Shoe sponsor en spreker Emerce eDay
One Shoe is dit jaar wederom vertegenwoordigd op Emerce eDay met een stand en een spreker. Emerce eDay is het grootste e-business, marketing en media event van het jaar met als motto 'Where innovation, digital, and great minds converge.'
Emerce eDay trekt duizenden bezoekers op het gebied van interactieve marketing, media en e-business uit verschillende branche. Met toonaangevende nationale en internationale sprekers als Jeffrey Graham (Twitter), Steven Schuurman (Elastic) en vele anderen biedt het event in één dag een blik in de toekomst van e-business en marketing.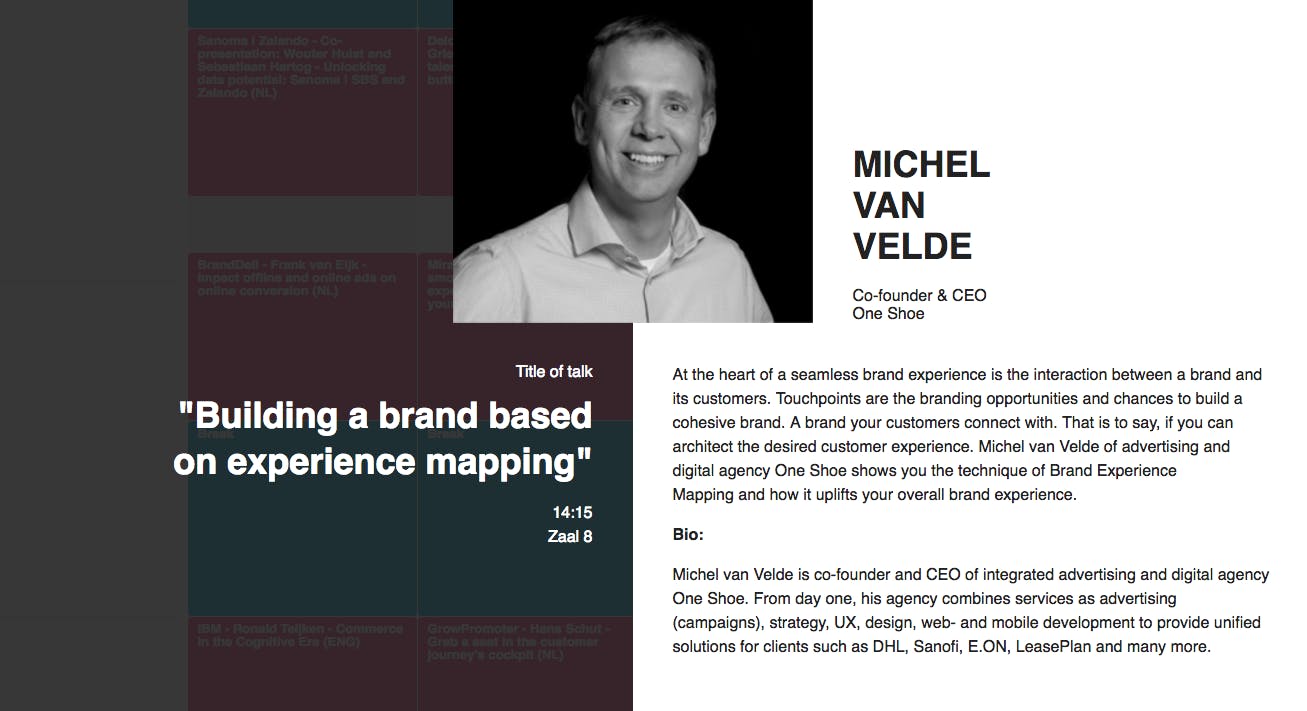 Presentatie
Stage 8, 14:15
At the heart of a seamless brand experience is the interaction between a brand and its customers. Touchpoints are the branding opportunities and chances to build a cohesive brand. A brand your customers connect with. That is to say, if you can architect the desired customer experience. Michel van Velde of advertising and digital agency One Shoe shows you the technique of Brand Experience Mapping and how it uplifts your overall brand experience.
Michel van Velde is co-founder and CEO of integrated advertising and digital agency One Shoe. From day one, his agency combines services as advertising (campaigns), strategy, UX, design, web- and mobile development to provide unified solutions for clients such as DHL, Sanofi, E.ON, LeasePlan and many more.
Over One Shoe
One Shoe is hét reclame- en internetbureau uit Utrecht met zowel traditioneel en digitaal DNA. Met 40 bevlogen specialisten realiseren we dagelijks high-end projecten voor opdrachtgevers als DHL Parcel, E.ON, Universiteit Utrecht, Liberation Route Europe en Makelaarsland. Van complexe webplatformen en mobiele apps tot en met geïntegreerde on- en offline campagnes.
Tot dan?
Wil jij alles te weten komen over de toekomst van e-business en media? Ben je benieuwd naar de stand van One Shoe? Emerce eDay vindt plaats op donderdag 6 oktober 2016 in de Kromhouthal in Amsterdam.