Tweemaal goud bij Digital Impact Awards in Londen!
De Digital Impact Awards vormen de branche brede benchmark voor digital stakeholder engagement in Europa. Naast One Shoe vielen dit jaar o.a. Accenture, LEWIS Global Communications, Publicis.Sapient en TMW Unlimited in de prijzen.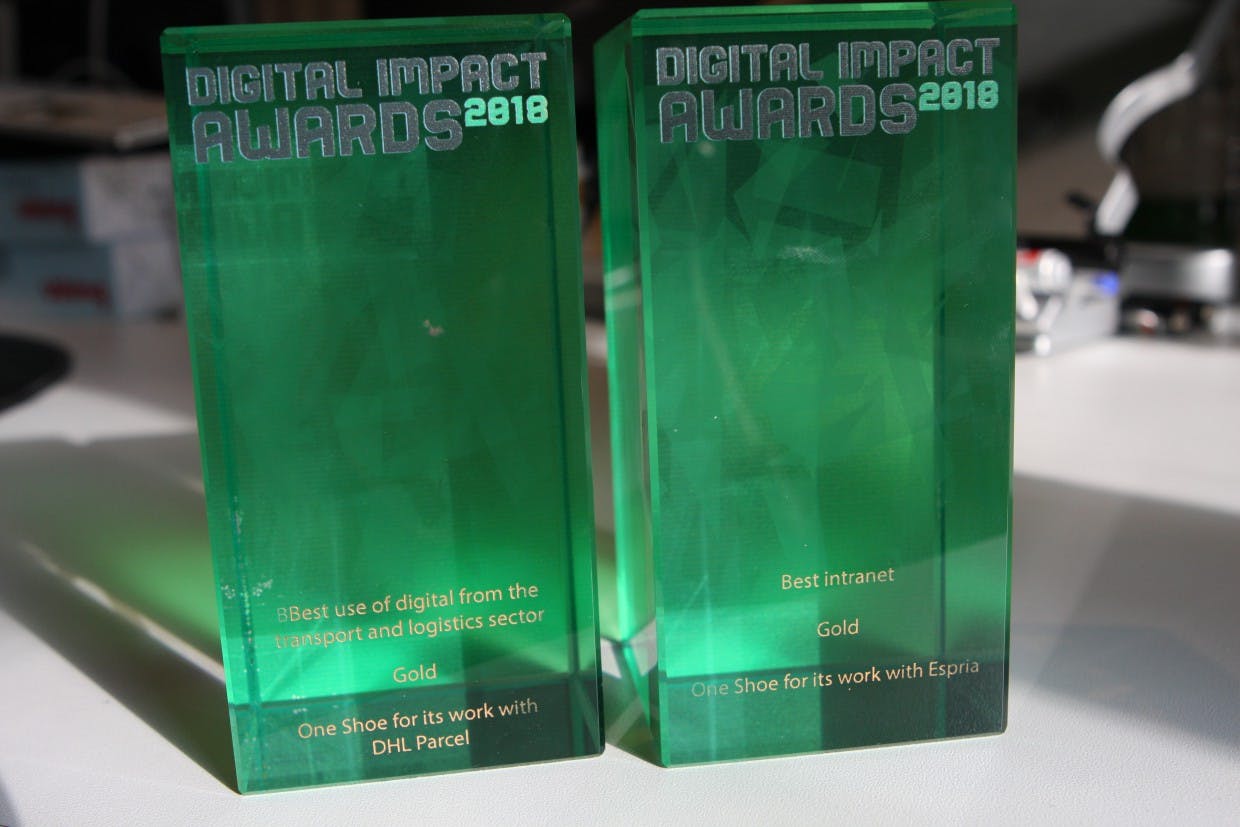 Best Use of Digital in the Logistics Sector
My DHL Parcel is door de jury verkozen tot de beste inzet van digital in de transport en logistieke sector. DHL Parcel werkt al langere tijd samen met One Shoe aan de optimalisatie van de digitale service. Voor My DHL Parcel zijn de verschillende verzendservices gestroomlijnd tot één eenvoudig app. De jury zegt hierover: "My DHL Parcel makes sending packages as easy as sending an email. The service offers a raft of sought after features delivered through a state-of-the-art and future-proof single page design."
Best Intranet
Espria won met goud van concurrent Unilever in de categorie Best Intranet. Espria is een van de grootste zorgorganisaties in Nederland en heeft in samenwerking met One Shoe een krachtig nieuw Digital Work Space ontwikkeld. Espria is de overkoepelende organisatie van 12 merken waaronder GGZ Drenthe en Evean en heeft ruim 18.000 medewerkers in dienst – variërend van zorgverleners en verpleegkundigen tot inkopers en beleidsadviseurs. Niet eenvoudig om voor zo'n brede doelgroep een inclusief intranet te ontwikkelen. Maar, zegt de jury: "One Shoe more than came through with the goods, delivering 'Digital Work Space', a truly transformative tool. Practical and with impressive uptake."